The recent heat has made it clear, it is officially summer. We're excited to have our summer menu available to you, with exclusive menu items that will only be available for the next few months!
---
A recreation of the classic refreshing summer drink, the Frozen Pink Lemonade Smoothie Bowl is the perfect bowl to enjoy in the summer sun. The primary components of this bowl include strawberries, pineapples, and lemons; all three of these components being excellent sources of vitamin C.
Vitamin C acts as an antioxidant, protecting cells from damage caused by free radicals

Free radicals are compounds that form as our bodies convert food to energy
We are exposed to free radicals in the environment in the form of air pollution and ultraviolet light

Vitamin C aids the immune system, helping it work properly in protecting the body from disease
---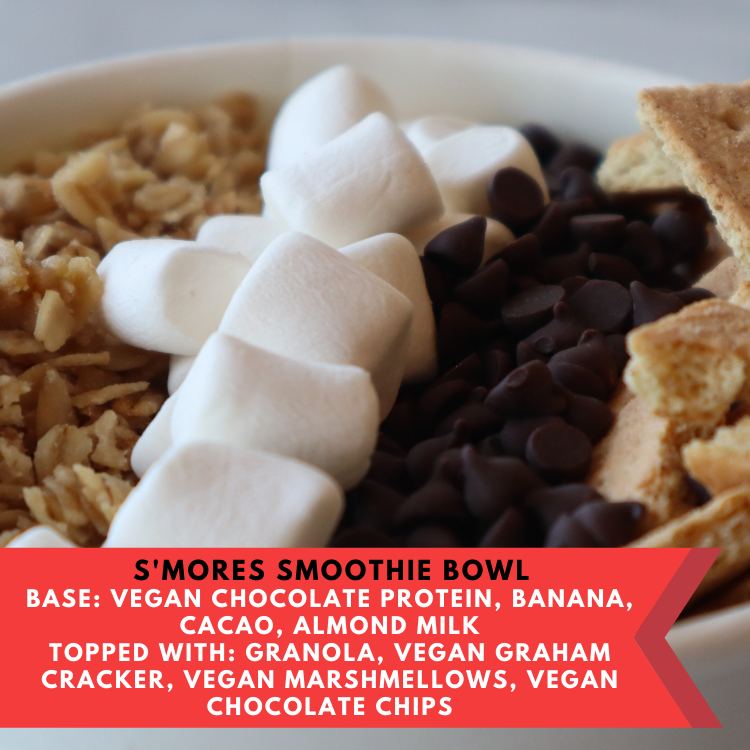 S'mores are a staple of summer campfires, something we had to recreate in the form of a smoothie bowl. In addition to being sweet and delicious like a traditional S'more, our S'mores Smoothie Bowl is also incredibly nutritious. The combination of cacao and vegan chocolate protein power provide an ample serving a protein; and the cacao is loaded with various other benefits:
Cacao is rich in antioxidants, iron, magnesium, calcium, and bliss chemicals (serotonin, typtophan, tyrosine, phenylethylamine)

These neurotransmitters have been associated with feelings of wellbeing and happiness, and have been linked to alleviation of depression
---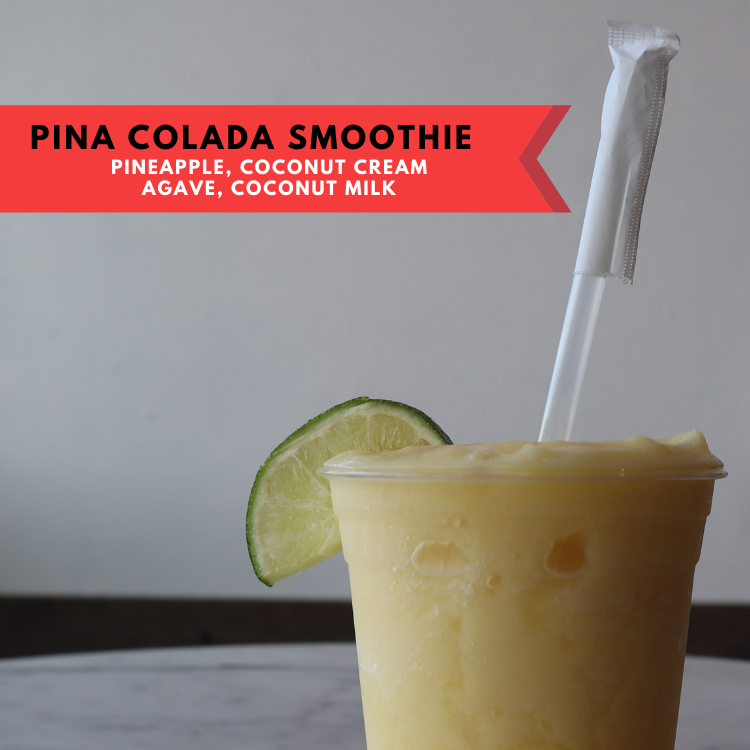 Our take on the classic cocktail is made up of pineapple, coconut cream, agave, and coconut milk, and garnished with a slice of lime. The Pina Colada Smoothie is packed with benefits due to its various forms of coconut products, pineapple, and agave.
As previously mentioned, pineapple is extremely rich in vitamin C

Additionally pineapple is known for reducing inflammation, aiding in skin repair, promoting a healthy gut, and fighting against cancer cells

Coconut cream is a rich source of vitamin B, C, and E; and various essential minerals such as iron, calcium, and magnesium
Agave contains phytonutrients that could have an antioxidant effect, and serves as a metabolism booster
---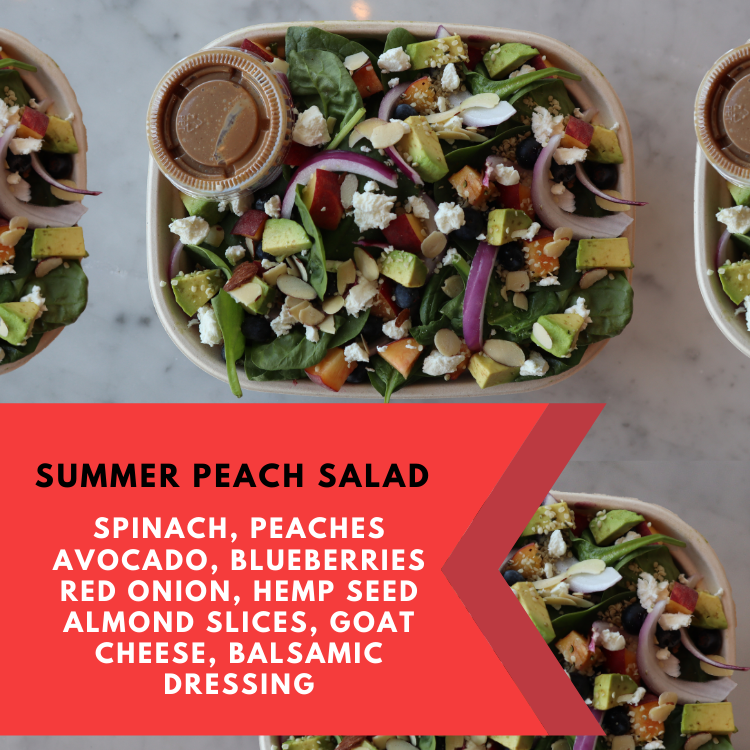 The Summer Peach Salad is loaded with a delicious combination of ingredients, including fresh summer peaches and our homemade balsamic dressing unique to this salad.
Peaches contain several important micronutrients; serving as a strong source of vitamin C, A, and several B-complex vitamins like thiamin, niacin, and riboflavin

Peaches are known for helping fight inflammation due to their abundance of antioxidants
They also contain ample amounts of fiber and potassium

Our balsamic dressing also contains a variety of health benefits, as balsamic is known for:

Helps lower cholesterol, thanks to high levels of antioxidants
Improves digestion
Regulates blood sugar
Helps blood circulation
Improves skin
---
Much like the Frozen Pink Lemonade Smoothie Bowl, the components that make up the Strawberry Sunrise are packed with vitamin C; with oranges, strawberries, and limes all being plentiful sources of it.
Oranges are also rich in fiber, potassium, and other phytonutrients

Fiber helps with maintaining a healthy weight, lowering risk of heart disease, diabetes, and some types of cancer
Potassium helps lower blood pressure
Phytonutrients present in oranges can lower the risk of cardiovascular disease

Limes antioxidant compounds help fight oxidative stress

Additionally, the vitamin C in limes help with absorption of other nutrients, like iron
---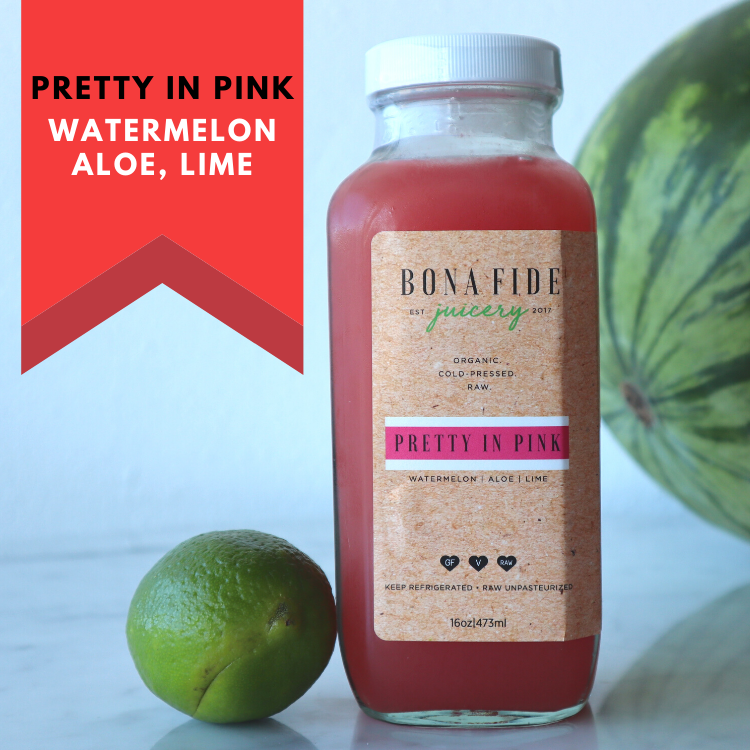 Pretty In Pink is incredibly refreshing, with it's main component (watermelon) being extremely hydrating.
Watermelon contributes more than just hydration

They are an excellent source of lycopene, a carotenoid phytonutrient that has been found to reduce or prevent high blood pressure
Significant amounts of the amino acid citrulline are present in watermelon, which has been found in small studies to reduce feelings of fatigue during exercise

Aloe has been found to help normalize levels of blood sugar in people with diabetes

Additionally has a laxative effect, that can be used to ease symptoms of constipation; also believed by some experts to aid in treatment of Crohn's disease and peptic ulcers
---
Resources:
https://ods.od.nih.gov/factsheets/VitaminC-Consumer/
https://begoodorganics.com/cacao-5-little-known-benefits-of-this-amazonian-superfood
https://www.verywellfit.com/pineapple-nutrition-facts-calories-and-health-benefits-4114409
https://www.livestrong.com/article/557495-what-are-the-benefits-of-creamed-coconut/
https://www.verywellfit.com/nutrition-facts-and-watermelon-carbs-1087575
https://www.verywellfit.com/carb-counts-for-limes-2241801
https://www.verywellfit.com/oranges-nutrition-facts-calories-and-health-benefits-4119322
https://www.verywellhealth.com/aloe-vera-what-should-i-know-about-it-89401
https://www.verywellfit.com/peaches-carb-counts-and-benefits-1087566