We've always had coffee in our stores, but we have officially taken it to a whole new level. The organic mushrooms, grass-fed butter, adaptogens, superfoods, add-ins, all of it is next level. We've been doing this at home for years, and we're excited to bring more of it to our locations!
Here are 5 reasons why our coffee is special:
1. Organic Coffee Beans
We only purchase 100% USDA certified organic coffee. Depending on the source, conventional coffee is among the most heavily chemically treated foods in the world. We also take pride in purchasing fair-trade certified coffee beans.
2. Less Brain Fog
Got brain fog?? We don't. We've spent time formulating and researching the perfect mushroom superfood mixtures for our coffees. We like to keep the mental clarity going all day.
3. Organic Nut Milks
Do you prefer to place your order with plant-based milk in your coffee instead of conventional dairy milk? We do too. At Bona Fide, we have all sorts of nut milk available to our guests. The unfortunate truth is, when you add-in "coconut milk" to your coffee at Starbucks, we're lucky if coconut is even in the ingredient list. That isn't the case here at Bona Fide!
4. Alternative Sweeteners
Most people like a little sweetness to their brew. Well, we've got you covered with organic alternative sweeteners that won't slow you down. We have Monk Fruit, Agave, Honey, or Pure Maple Syrup. Most people agree that our nut-milks are delicious enough that a sweetener isn't needed in their coffee. You'll have to see for yourself!
5. You're not just drinking coffee, you're drinking coffee with benefits
We thought long and hard about our coffee creations. We don't just serve "coffee", all of our coffees have a purpose. We're really proud of our coffees that have actual benefits. Check out some of our favorite creations below!
Brain-Boosting Mushrooms + Adaptogens
Plant-Based Nut Milk
Organic Naturally-Sweetened Syrups
Alternative Sweeteners
Smooth, Aromatic, Less Acidic
But wait… There's more!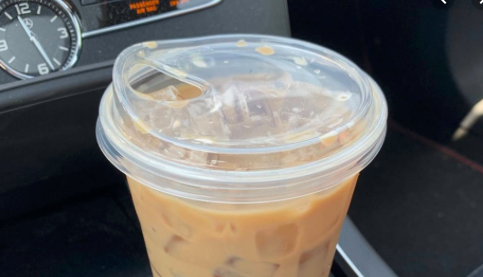 Our coffee is served our in eco-friendly cups. Meaning, they are 100% compostable. Both, hot coffee and iced coffee.
Our coffee filters are non-bleached, and compost extremely quickly.
If you bring in a reusable cup, you get a small discount on your purchase. We encourage it!
Bona Fide offers "smooth sip" cold-brew lids on our cups. Meaning, you don't have to use a straw. Score!
What our locations serve:
Appleton: Hot Coffee, Specialty Coffee, Nitro Coffee, Cold Brew (We just added new cold brew coffees to our menu!)
De Pere: Hot Coffee, Specialty Coffee, Cold Brew (We just added new cold brew coffees to our menu!)
Bellevue: Espresso Drinks, Hot Coffee, Specialty Coffee, Nitro Coffee, Cold Brew – OPENING SOON!